Exotic. Traditional. New Wave. Fusion. Vinings is a town with a diverse dining scene that rivals that of many major metropolitan cities. The international cuisines that can be found throughout this small town keep many people flocking to the area to sample some of the best restaurants in the Southeast.
Known for its southern charm and hospitality, Vinings also has a reputation for some of the best southern cooking in the area. South City Kitchen is a contemporary take on southern classics while Jim 'N Nicks BBQ is finger-lickin' good old-fashioned barbecue made with the freshest ingredients in town.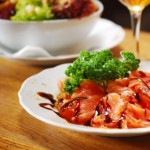 Hungry for some bar/pub grub? Vinings is loaded with bars/pubs that not only serve up a tall glass of beer but a perfect plate of wings and fries. McCray's Tavern is a neighborhood sports bar that brings locals and visitors together for excellent food, great drinks and game day fun.
Asian cuisine may seem like an unusual choice in a town known for southern charm, but there are several stellar options nestled right in the heart of this small town. Orient Express is a Chinese, Japanese/Hibachi restaurant located in an old train car while Top Spice is a Thai restaurant that boasts bold flavor combinations and delectable entrees.
Sometimes the idea of hearty Italian fare is what's on the menu for the evening. Vinings is home to several Italian restaurants. Maggiano's delivers large portions of perfectly prepared authentic Italian recipes while Scalini's is the small neighborhood establishment with big time flavor serving up amazing food for over twenty-five years.
No matter how small or large your appetite, Vinings can satisfy your taste with some of the most appetizing restaurants and cafes in the Southeast.
Canoe
4199 Paces Ferry Road Northwest
Atlanta, GA 30339
(770) 432-2663‎
CanoeAtl.com
Menu: Brunch, Lunch, Dinner, Wine, Dessert
Garrison's Broiler & Tap – Closed in 2014
4300 Paces Ferry Road Northwest
Atlanta, GA 30339-5715
(770) 436-0102‎
Jim 'N Nicks BBQ
4574 South Cobb Drive
Smyrna, GA 30080
(678) 556-0011‎
JimNNicks.com
Menu
Longhorn Steakhouse
2973 Cobb Parkway Southeast
Atlanta, GA 30339
(770) 859-0341‎
Maggiano's
1601 Cumberland Mall
Atlanta, GA 30339-3162
(770) 799-1580‎
Marlow's Tavern
2355 Cumberland Parkway, Suite 101
Atlanta GA 30339
(770) 432-2526
MarlowsTavern.com
Menu
McCray's West Village Tavern
4500 West Village Place
Smyrna, GA 30080
(678) 370-9112‎
McCraysTavern.com/mccrays-tavern-smyrna
Menu
Meehan's Public House
2810 Paces Ferry Road Northwest
Vinings, GA 30339
(770) 433-1920‎
Mellow Mushroom
2950 New Paces Ferry Road Southeast
Atlanta, GA 30339-6227
(770) 435-5949‎
Noche Tequila and Tapas Bar Closed in 2015
2850 Paces Ferry Road Northwest
Atlanta, GA 30339-5719
(770) 432-3277‎
Orient Express
2921 Paces Ferry Road Southeast
Atlanta, GA 30339
(770) 438-8666‎
OrientExpressAtl.com
Paces & Vine
4300 Paces Ferry Rd #250
Atlanta, GA 30339
(404) 205-8255
PacesAndVine.com
Padriac's
2460 Cumberland Parkway Southeast
Atlanta, GA 30339-5038
(770) 433-2398‎
Ray's On the River
6700 Powers Ferry Rd
Atlanta, GA 30339-2939
(770) 955-1187‎
River Room Restaurant & Tavern Closed
4403 Northside Pkwy NW # 150
Atlanta, GA 30327-5210
(404) 233-5455‎
Scalini's
2390 Cobb Parkway Southeast
Smyrna, GA‎ 30080-3061
(770) 952-7222‎
Stockyard Burgers & Bones Coming Soon
2850 Paces Ferry Road Northwest
Atlanta, GA 30339-5719
Social Vinings (closed Dec. 2015)
3621 Vinings Slope SE
Atlanta, GA 30339
(770) 432-9772
SOHO Restaurant
4300 Paces Ferry Road Northwest #107
Atlanta, GA 30339
(770) 801-0069‎
South City Kitchen
1675 Cumberland Parkway
1 Ivy Walk
Smyrna, GA 30080
(770) 435-0700‎
Vinings.SouthCityKitchen.com
Menu
Stoney River
1640 Cumberland Mall
Atlanta, GA 30339
(678) 305-9229
http://jalexandersholdings.com/StoneyRiver/
Menus: Lunch, Dinner
The Grape at Vinings Closed
Vinings Jubilee
4300 Paces Ferry Road
Atlanta, GA 30339
(770) 803-9463‎
Top Spice Thai & Malaysian Cuisine
2997 Cobb Parkway Southeast
Atlanta, GA 30336
(770) 988-9007‎
Vinings Inn
3011 Paces Mill Road
Atlanta GA 30339
(770) 438-2282